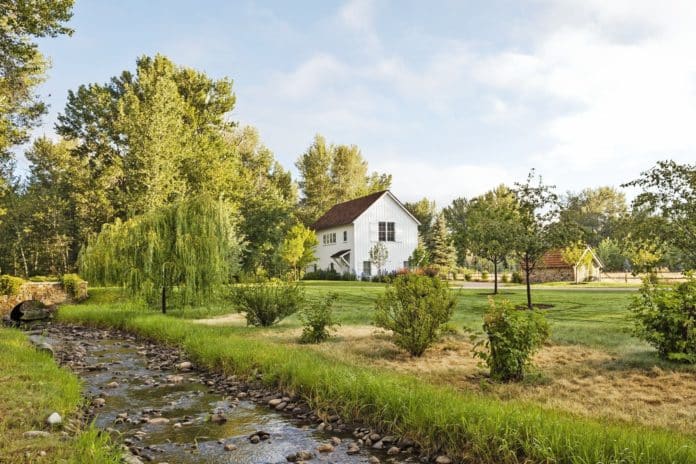 With warmer days just around the corner, Colorado Springs homeowners eagerly anticipate getting outdoors after being cooped up inside all winter. Spend that time outside enhancing the aesthetic appeal of your property. We value a beautiful interior home. Put the same attention and time into the landscaping outside and your home instantly has an inviting comfort the average home lacks. Use one of the landscaping ideas below for a quick and simple exterior update.
Stone Path/Walkway
Stone walkways add sophisticated appeal to any Colorado Springs home. Along with improving aesthetic appeal, stone paths/walkways provide a walking path that keeps grass and flowers free from damage. Stone comes in assorted colors and patterns and easily accommodates projects of any size. It's a great DIY job for most, although professionals also offer stone walkway installation. Customize your stone walkway to meet your exact aesthetic needs and add head-turning curb appeal to your property.  Although ideal for garden cottages, stone walkways accentuate any home style. The aesthetically appealing walkway is functional, inexpensive and convenient, all qualities that Colorado Springs homeowners need!
Sitting Area
An outdoor sitting area is often called a patio, deck, or a courtyard, although you can call it whatever you wish! Creating a sitting area needn't be a big, overwhelming project. Simply remove a bit of dirt, add  a few rocks and a patio table and chairs. Many people add flowers, plants, and other decor for a truly personalized sitting area experience. Choose your style and fall in love with this relaxing outdoor spot that easily doubles for family gatherings and outings with friends. 
Artifical Grass
Spring brings beautiful weather and warm days, but it also means that it's a grass-cutting season. Cutting the grass is dangerous and time-consuming. Rather than deal with the headaches again another year, why not install artificial turf? Colorado Springs lawns often face the brunt of scattered weather conditions, which causes brown spots, bald spots and other problems. Artificial grass provides an appealing green lawn all year long, minus the maintenance and hardy work. No matter the season, no matter the weather, artificial turf looks amazing. Choose from many grass species and styles to complement your home's exterior. Artificial grass is an affordable way to spruce up any landscape and add the lush appeal that may not otherwise occur.