Bathroom remodeling continues to be one of the most sought out home improvement projects around. And it's with good reason. Nothing has quite the same effect to a new home than an upgraded, new and improved bathroom. A freshly remodeled bathroom is a smart investment decision as well, as it can greatly increase the value of your home.
While there is no exact blueprint to a perfect bathroom, there are steps you can take during the remodeling process to ensure that your new bathroom is at least built in the way that you desire. The process can be fun and rewarding, with the right planning in place. But it can also turn into a home improvement nightmare if you do not do the proper due diligence in advance.
Below are some things to keep in mind before diving head first into your next bathroom remodeling project.
Set Your Budget in Advance
It's easy to gloss over your budgeting for a bathroom remodel project, thinking it's impossible to know exactly how much the entire project will ultimately cost you. But this step mustn't be hastily done. It's very important that you set out as close to an accurate forecast for your budget as possible. That way, halfway through the planning project you'll know if you are on track or off. And that will help you determine the next course of action, if you need to redirect funds or cut things out accordingly.
This budget will ultimately act as your guiding light throughout the process – from choosing the bath products, to determining if you are going to do the work yourself or hire outside work. All of the decisions you make will be consistent with what you have set out to be because of this budget planning in advance. It will save you future headaches and money in the long run.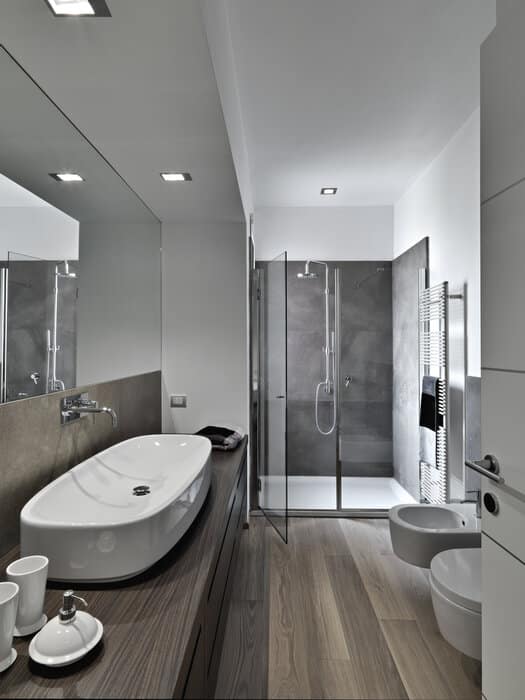 Determine if You're Going DIY or Hiring a Contractor
There are many factors that go into determining the answer to this decision. Such as your budget, the scope and difficulty of the remodeling project and of course your own personal skill level and time. For most average homeowners, the decision to go DIY is far-fetched. And hiring a contractor is usually the only feasible route to ensure the project gets done in a timely fashion.
If you do decide to go with a contractor, make sure you are hiring one that has references you can confirm beforehand. Make sure you are hiring someone who is fully licensed and insured, and will be there on the job site when he says he will be. The worst thing is to hire someone who will be a pain to get a hold of. And worse—unqualified to perform the job you hire them for.
One of the best places to look for qualified contractors is by doing a quick local search for who is around you. For example, if you were located in CNY and were looking for a contractor, you'd search "bathroom remodeling Syracuse NY" to pull up a localized list of all qualified companies by you. Then one by one you can go through and check their ratings, qualifications and portfolio of work to determine which one matches up with the scope of your project.
It's important to do all your due diligence in advance instead of halfway through a project. This way, you know exactly what you are paying for and the quality of the contractor's work.
Order Products in Advance
One of the worst things that can happen during a bathroom remodeling project is having the project deadline pushed further and further back. One of the main reasons this could happen is if the bath products do not arrive on time, when the contractors are set to install the products. Since there are so many moving pieces to the entire equation, it's important to get a head start when ordering the components of the bathroom. This is especially so if you want a very specific type of vanity cabinet, faucet, toilet, sink or light fixture in mind. There are thousands of choices to choose from— from the shower head style to the floor tiling. It can all get very overwhelming to try to do everything on the fly and products can go into back order if not planned for accordingly.
Save yourself and the contractors from future headache and plan all of your buys in advance and accordingly.
Though it's important to plan all that you can in advance of a remodeling project, because of the complexity of any home improvement project, you need to stay flexible throughout it all.
What you may expect once you demolish the bathroom and tear down the walls may be very different from what you actually find. The best thing you can do is control what you can, which is the pre-planning stages, and then remain flexible throughout the duration of your project.
And remember – try to have fun with it! It's a home improvement project after all. And you're ultimately building for a new and improved space. So if you keep the above tips in mind, you'll be on your way to a bathroom remodel project that goes smoothly and stays on budget.