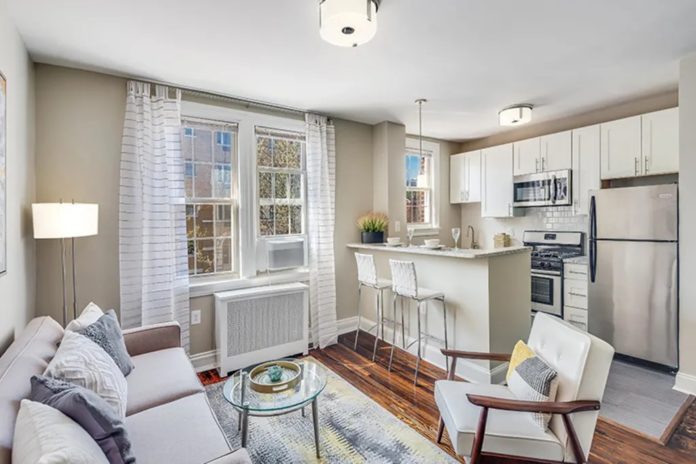 When you live in Dupont Circle apartments for rent, you get an urban and hip feel with a neighborhood known for its large concentration of political figures. Dupont Circle is one of the most highly desired places to live in the Washington DC area. The neighborhood is beautiful with century-old row homes that line up leafy streets.
Plenty of Things to Do
Dupont Circle is mainly a transportation hub and shopping district. Almost everything you need is within walking distance. Connecticut Avenue goes through the center and comes alive at night with many different nightclubs. During the daytime, you can spend some time on Mansion on O Street, a museum that offers plenty of unique and exciting things for both kids and adults. Art lovers can enjoy visiting the Phillips Collection, home to some of the most famous names in art. There are plenty of festivals, such as the Capital Pride Parade, that make living here engaging and interesting and there are always plenty of cultural events to attend. On Sundays, many residents go to the farmers market in the neighborhood, which is one of the largest in the city. It's an urban city but it doesn't feel too urban.
Transportation
When you live in Dupont Circle apartments for rent, you are right in the center of downtown Washington DC. A local Red Line metro makes living there a short ride to pretty much anywhere in DC. You can reside in Dupont Circle and work in the surrounding city without having to get in the car and deal with traffic. Dupont Circle is a central location of Washington DC, which means that you can enjoy a day trip to other cities, including New York, Philadelphia, Wilmington, Annapolis, and Baltimore.
Diversity of People
The Washington DC area is home to a variety of people of different nationalities, religions, backgrounds, and economic levels. The population is very educated, which helps makes it an interesting place to live.
Mild Weather
The Mid-Atlantic region has mild weather and fewer natural disasters when compared to other parts of the United States. Residents in Dupont Circle and Washington DC look forward to the seasonal changes.
It's Safe
You seldom hear of crimes happening in the area and DC does a great job of making sure the neighborhood looks immaculate. The constant flow of pedestrian traffic also helps keep it one of the safest neighborhoods in the city. Crime is mostly limited to property crime, such as robbery and car theft.
Schools Are Improving
While Dupont Circle has never been the main hub for young families, that is starting to change as the schools are improving and a baby boom is happening in the area. One of the elementary schools in the neighborhood also has a new environmentally friendly playground.