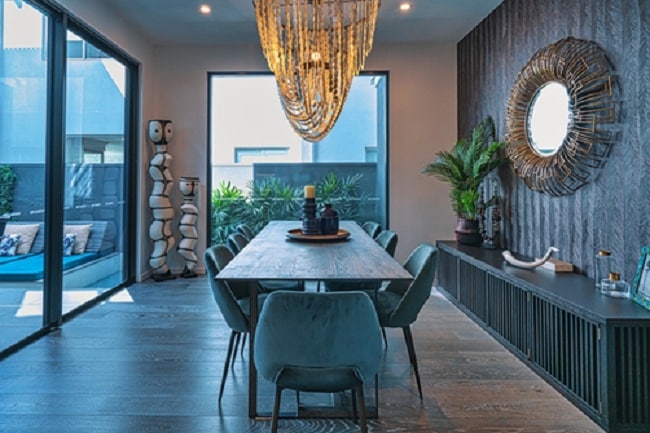 As one of the most visually dynamic and serene cities in California, San Diego is a treat for tourists. And while the city's balmy climate and gorgeous beaches have garnered a lot of attention, its immaculately-designed homes have stolen the spotlight recently.
Whether you take a stroll down Mission Hills or find yourself screening the streets of La Jolla, you'll be taken aback by the stunning residential exteriors.
It doesn't end there. Step inside and you'll get a chance to feast upon interior design and décor that leaves you breathless.
A classic San Diego dining room is the perfect mélange of modern tranquility and luxury at its finest. If you recently moved to the dazzling city, it'll probably take you a while to acclimatize to the idiosyncratic San Diego palate.
Need some help?
We've rounded up the city's best-kept design tricks for making a dining room stand out!
1. Indulge in Standout Gold Accessories and Steel Sliding Doors
Gold accessories are a staple in San Diego dining rooms. Not only do they add a touch of sophistication to the space, but they also balance the interior design and décor to a tee.
If your dining room has been looking a little run-of-the-mill lately, opt for striking gold accessories, including mirrors, light fixtures, and gold-rimmed tableware.
The possibilities are endless; find what works best for your space and don't forget to keep making adjustments as you deem fit.
Pair the accessories with black steel sliding doors that do justice to the classic "black and gold" theme. You'll marvel at how seamlessly the space comes together!
Find out more about the benefits of having sliding doors in interior spaces to get started.
2. Position Your Dining Table Parallel to Your Iron Patio Doors
Please embed image 1
Creating balance in the dining room is essential. If your space lacks congruence, it can easily appear overdone or underdone.
Position your dining table parallel to your iron patio doors to ensure interior cohesion. In addition, make sure that the length of your dining table matches the width of your doors. This subtle yet transformative detail will make the space appear more inviting, compelling, and comfortable.
We also suggest picking the right patio doors for your space. San Diego's been loving bi-fold/accordion doors and spacious steel French doors lately. Find the perfect pick for your dining room to add a touch of contemporary elegance to the space.
3. Balance a Warm Palette With Bold Black Furnishings and Accessories
Please embed image 2
There's no denying it. San Diego loves a good minimalist theme!
But if you're planning on bathing your dining room in warm, pastel tones without adding depth and dimension, you may be veering slightly off course.
Restore balance by pairing plush, cream hues with bold black furnishings and accessories. Opt for black steel windows and doors to add contrast to the space. We also recommend indulging in a black dining table rug to complement the manila palette.
Personalize the space a tad more by indulging in hunter green potted plants and eye-catching three-dimensional wall art.
4. Let That Dream-Like View Speak for Itself
If you live near the beach, you need to leverage the gleaming views. There's no way around it!
Indulge in swoon-worthy factory-style steel windows that offer a hearty glimpse of Coronado Beach, Ocean Beach, Pacific Beach, or La Jolla Shores.
Opt for warm lighting to ensure the interior space is darker than the exterior space. This will make the gorgeous view stand out even more.
Install a dazzling light fixture to add a fresh burst of light without going overboard.
5. Spruce Up the Ceiling to Generate Visual Excitement
Please embed image 3
Leaving the ceiling undone is one of the biggest dining room design faux pas. If you don't want to opt for centerpiece lighting, you have to find another way to enliven the space.
Spruce up your ceiling by indulging in small—albeit impactful—individual fixtures that generate visual excitement. Whether you're sharing a classic Sunday pot roast with your family or hosting a dinner party (post-lockdown, of course), the powerful touch will make your dining space appear exciting and memorable.
We also recommend adding fresh pops of color to the space by indulging in bright dining chairs that instantly spark joy.
And if a regular dining table centerpiece doesn't sound appealing to you, switch things up by decking out the table with a summery potted plant. The nifty addition will add a touch of wholesomeness to the space. While we're particularly fond of fresh plants, you can also opt for high-quality artificial plant arrangements that could pass as the real deal.
Top things off by installing black steel windows that pull the space together.
About the Author
The author is a renowned door designer and art enthusiast. Their high-quality wrought iron and steel door designs are available at Pinky's Iron Doors—one of the leading door design and manufacturing companies across the U.S. With over 42 years of experience, the company features an extensive selection of iron front doors, custom steel doors, exterior steel doors, iron glass doors, and pocket steel doors, among many others. Homeowners, interior designers, and real estate investors can browse through their expansive range to find the right pick for their home/project.