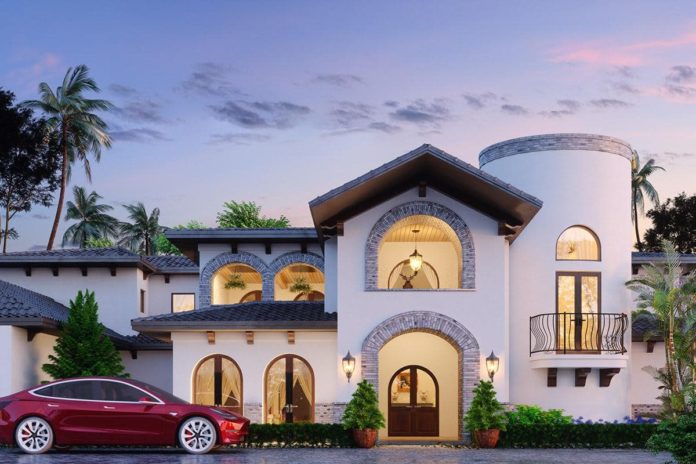 Is your home or apartment is as big as 1,000 square feet, 2,000 square feet, and 5,000 square feet? Perhaps 10,000 square feet? Whatever is the size, you may imagine, odds are that it is still way behind than the largest house in the world.
To find the biggest house on the planet, you need to make a trip to Antilia, which is in South Mumbai, India. This private home was built in 2010 and it is the biggest on the planet covering 400,000 square feet. This is a 27 story skyscraper. 
Is it the largest house in the world?
Yes. All the 27 stories are in use by the richest man in India, Mr. Mukesh Ambani, and his four family members. Around 600 staff are working day and night to support this tremendous residence. Besides being the largest, it is also the most expensive house in the world with a valuation of $1 billion.
Perkins and Will, a Chicago-based architectural firm designed this building, and the construction was done by Leighton Holdings (Australia).  
This high rise building stands tall at 550 feet, and every 27 floors consist of extra-high ceilings. If you consider the normal ceiling height, then the structure could have gone up to 60 stories with standard floor construction. 
What will you find in this house?
You might think that what is the use of 27 stories for a family of 5 members? There is abundant space for three helicopters to land on the several helipads on the rooftops. Extending below the helipads, there is a story that is exclusively kept for managing the air traffic. 
The main residence part of the structure is just below this. Below this floor, there are maintenance floors, apartments for guests, a pool and spa, outside nurseries, a 50-seat film. At the base, you will find six large floors for parking 200 vehicles.
Along with richness, it flaunts some awe-inspiring engineering. This building is so powerful that it can withstand an earthquake measuring eight on the Richter scale. The building was designed to save energy, through enough ventilation and utilizing the garden for cooling purposes.
A monstrous "ice-room" is constructed to keep the room colder if the passive energy efficiency doesn't work. 
Conclusion
The above key features of this building separate from other buildings in the entire city. Needless to say that this the world's greatest house is very costly and somewhat needless. The valuation is placed at more than $1 billion. However, the Indian media estimates the price for the building is more than $2 billion. The director of marketing of the same architectural firm that designed Antilia confirmed that the cost through an interview with Forbes magazine.
Therefore, the biggest house on the planet is most likely greater than your residence.  However don't feel awful, in any case, you don't need to pay huge energy bills.