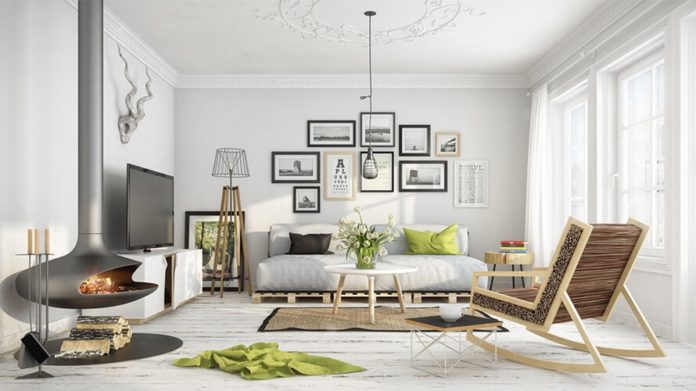 Nobody is born with the ability to visualize and imagine rooms. This magical ability to imagine a room and designing it on the fly doesn't exist. Interior design doesn't work that way, in fact, it's a discipline with rules just like any other discipline. Those who practice Interior Design learned them at some time.
Maybe what confuses people much is the difference between interior design and interior decoration. Interior Decoration differs from Interior Design in being focused on visual aesthetics and on adjusting the surface of work. While interior design is a formal discipline that requires going to school and have formal training and acquiring certification.
The first step in the Interior Design framework is to pick the style of choice. There are many Interior Design styles out there that you can pick from. Modern, Contemporary, Scandinavian, and vintage. Pick one and that's when you start laying out elements of interior design.
Colors, choose your color palette, make one of your own or even pick one off Pinterest that you like. What's important is that you choose a color palette that represents you and what you like. It will stick to your design and you want your design to be a mirror of what you think of.
Add some patterns from the ground up, you may like wooden floor tiles, so use those. Use furniture that has patterns, put a pattern of wall frames. Patterns are a way to express what you have inside so make sure to use some of them. They come in handy when you need them.
If you're designing a bedroom, follow the ideas of designers that have designed bedrooms before. They'll showcase them everywhere, on Pinterest, Behance, and interior design blogs. Follow those project walkthroughs like this Contemporary master bedroom and focus on every element of the design and every detail. The bed and the beddings, the wardrobe and the nightstands, floor tiles and the chandelier, everything is coherent and connected to each other, You have to catch that pattern deep inside and use in your designs.
If you're designing a kitchen follow designers' tips on how to maximize the work triangle and how to keep things functional to the maximum extent. In the end, there's a lot to learn, this is all Interior Design 101 for you.