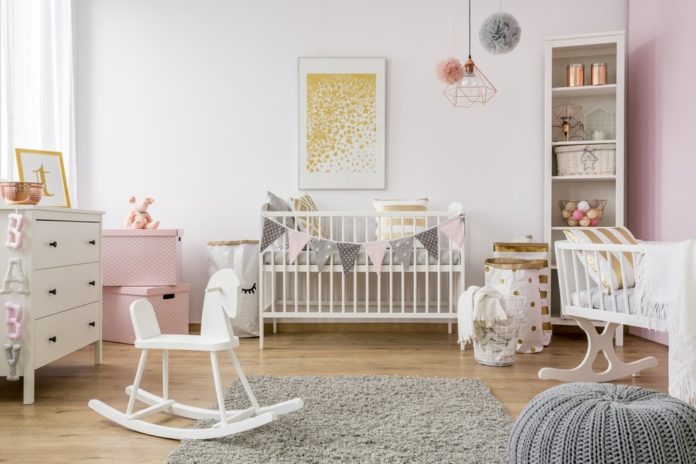 Just like every other interior design venture, you must put a lot of thought into decorating your child's nursery. Choosing a theme, your kids wallpaper, the crib, and all other aspects of the experience can be immensely rewarding. 
If you feel like you're in over your head, look out for this guide. Here are things to do or avoid to ensure that you put together a perfect nursery for your baby. 
The do's of designing a nursery
Decide on a specific style or theme
If you don't want to end up purchasing pieces that are not suitably matched, you need to select a theme beforehand. The decision you make will end up guiding any subsequent choices you make. 
Such as what color to paint the walls, style of wallpaper to get, style of the crib, light fixtures to install and whether or not you should incorporate some greenery into the overall design.
Make your child's safety a priority
Once your infant starts crawling, he or she will begin to explore every nook and cranny of your home. A lot of common decorative pieces are not exactly baby-friendly. Keep this in mind when you're designing your nursery. 
Childproof the windows and other areas of the room. Keep light fixtures and other heat-emitting objects out of reach. Cover electrical cords and secure any piece of furniture that could pose a threat.
Don't get so caught up in the creative aspects of a nursery's design that you forget about functionality. You're going to do a lot of feeding and diaper changes in that room so it's best to be prepared. 
Create an adequate storage space where you can store diapers, baby wipes, towels, bibs, and other essentials. Choose a comfortable baby counter and keep sanitation supplies handy.
The don'ts of designing a nursery
Don't forget to prepare for nightfall
A pretty nursery in the day can appear haunted to a scared child at night. If you want to guarantee a peaceful night's sleep for your baby, invest in some nightlights. They will cast a warm glow over the crib and with the variety of options available, you can be creative with your choice. 
Flooring is an important aspect of any interior design project. But your baby's nursery is not an ordinary design project and the choices you'd make for a fully grown human are very different from the sort you'd make for a baby. 
Expect a lot of falls and tumbles when your baby starts to crawl then walk. It's up to you to cushion the effects of those falls. Invest in a soft area rug that will protect your baby from the hard floor when he or she begins crawling.  
This cannot be overemphasized! Take advantage of the space you have and incorporate pieces that won't overwhelm the room. Your baby will spend a lot of time on the floor and this could pose a risk if you've filled up the room with a lot of things. 
Provide only the absolute essentials and keep the room free of clutter. 
Conclusion
It will take days for you to create a nursery that truly fits the image in your head. Plan and start early. Have fun with it.