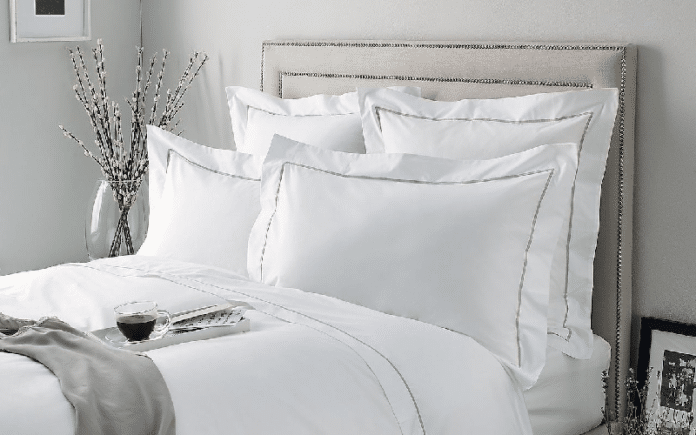 A bag having feathers, down and other natural filled stuff refer to a Duvet. The cover used on it that looks like a giant pillowcase is the Duvet cover. They offer protection to the expensive Duvets from dust and stains. One only needs to wash the cover that gets removed easily. Blankets and comforters go inside the Duvet covers, giving them a decorative look. Talk about their size and fabrics, then you must read further before buying Duvet covers.
 Size
When buying Duvet covers, you need to see the size of the blanket or comforter's size, as you will be keeping the comforter inside. For the best fit, the covers must be 1 or 2 inches larger than the quilts. The size comes in Twin, King, Queen and California King.
 Fabrics
There are types of fabrics available for duvet covers that are
Cotton Duvet Covers that come with excellent breathability and unlimited textures and patterns. Some examples of cotton are Combed Egyptian Sateen, Percale and Pima.
Blend Duvet Covers need less care and zero ironing. They combine the best of synthetic fibres.
Silk Duvet Covers are soft and luxurious, needing much washing. They give gorgeous looks through plenty of colours.
Faux-suede Duvet Covers are a polyester fabric that appears like suede. They are inexpensive and are easy to clean. Get multiple colours to choose from this range.
Velvet Duvet Covers are the polyester blends that are heavy by nature, giving an affluent look.
 Bedding Sets
Many consider a bed more than a sleeping platform; they believe it is a place where one goes into deep thinking. A quiet and peaceful ambience allows themto learn to express their feelings. That is why people buy Bedding sets. A bedding set comprises mattresses, sheets, pillows, blankets, duvets and accessories. They all match up to have a relaxing retreat escaping from the day's stress. Continue reading, and you will learn about the bedding sets that you must possess for your beds.
While buying bed sheets, pillowcases and blankets, you must ensure that they accommodate the size of your mattress. See their fibre type as per your sleeping habits, giving a pleasant touch. Note you must always have two sets of sheets, so you never leave the bed empty when one goes for laundry.
Blankets must be lightweight as they offer a versatile addition to the bedroom. If they have details or borders on sides, then they bring much interest from the onlooker.
For the covers are the centre of attraction, the decorative pillows, coverlets and Duvet covers complete the bedding look. If you have to make a statement, then buy them in solid colours, skilfully stitched patterns. Pillows must add to the dimension of the bed with their fills offering core support and are allergy-free.
Finally, a high-quality mattress helps you have a better sleep. So, buy those having coil systems as they got the ability to reduce weight transfer from one side to the other.
Stores all around the world have a Pandora of Duvet Covers and Bedding Sets that will give a stylish update to your bedroom. Just type the keywords on the internet, and you will explore much more than your desire.