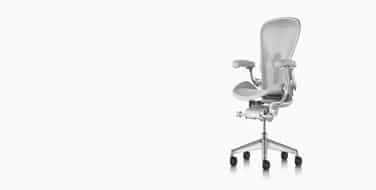 A survey shows that a daily person sits for an average of 12 hours, which is even more than the amount of time spent lying in bed. It is a dangerous lifestyle and could contribute as a threat to our life and health. Thus, as a result, to overcome these problems, the top priority should be to get a perfect and comfortable office chair for long sitting hours.
Many people with office jobs develop problems like a spinal misalignment, numbness and joint pain, by sitting too long on a low-quality chair without support.
When we talk about the best chairs for our office, the Herman Miller "Aeron" chair is instantly clicked in our mind. They are the most popular and commonly purchased chairs in their collection. The Herman Miller Aeron chair comes in 3 sizes to perfectly fit people with different height and weights.
Most commonly, the price range for office chairs falls from $130 and $300; however, the Aeron chairs cost around $1000, but it's worth the investment especially for your comfort, health and productivity. Due to its Posture Fit SL technology, the chair supports your back and follows each of the movements. It helps you to stay comfortable and due to its adjustability, once you engage it you can adjust the chair back to the position that perfectly fits your spine thus resulting in pain relief even if you've to sit for long hours.
Secondly, due to the chairs full adjustability, any position could be modified that suits your needs. The tilting function helps you to lean backwards and forward effortlessly. The curvature and height could also be adjusted for the lumbar support. All the main things of the armrests, their angle, depth and height all are flexible. It is specifically made so that your body has a minimal strain and a comfortable position which is essential to maintain a good posture.
The designers of the EuroStyle office chair notice that people come in different sizes and shapes. Therefore a single style would not be feasible to match with the unique body styles of their customers; thus for their convenience, they've designed these chairs in 3 sizes.
A is a small size; the second is B which is a widely known size that fits the people with average build perfectly and C for tall and massive people that will instantly adjust to it. Along with it, a size chart is given for reference which includes a range of weights, chair size and height for the customers. Three different colours are available, which vary from light to dark are Carbon, Graphite and Mineral.
The Herman Miller Aeron has fixed one of the huge issues that have arisen over a while, sweating and overheating. Due to its opaque layer of fabric, the humidity and heat are trapped against the clothing and skin. The pellicle mesh helps with the air circulation, and the user can maintain comfortable and even skin temperatures. These features play a significant role in determining the best Aeron chair for sitting long hours easily.