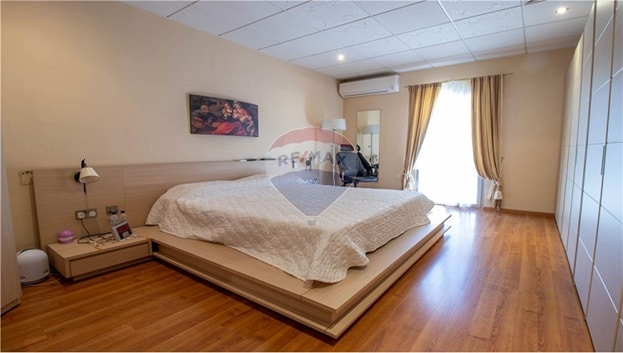 Getting a good night's sleep is crucial for so many different reasons. Not only does getting enough sleep help you to handle whatever the next day has to throw at you, but it also helps you to make good choices, feel your best and live a healthier lifestyle overall. Each of us have our own rituals when it comes to sleep, whether you like to do a full skincare routine before you lay your head on the pillow, or perhaps you like to squeeze in 10 minutes of meditation before you drift off. Aside from these nightly routines, the décor of the room can also help to ensure you get a good, cosy night's sleep. 
Levels of Lighting
Having the right lighting in the bedroom can play a huge part in how you sleep. It's found that too much light can prevent you from drifting off to sleep properly and could result in you having a broken sleep. By introducing lower level lighting to the room, in the form of bedside lighting or smaller wall lights by the bed, you can create the perfect atmosphere for a relaxing, cosy end to the evening. The atmosphere you create is essential when it comes to settling down for the night, so it's beneficial to introduce the right lighting to help you to achieve this. Take a look at online retailer Buster and Punch for some inspiration with pendants, wall lights and more. 
Quality Mattresses
When it comes to decorating the bedroom, one of the most important decisions you'll make is which mattress to invest in. Mattresses are quite a pricey purchase, but when you put your money into the right brand, you'll have your mattress for many years to come. The recommended amount of time you should hold onto your mattress for is 8 years, so you can rest assured with a good quality mattress you'll see excellent value for money. There are so many different mattress brands around with unique selling points, but ultimately it boils down to what you want to get out of your mattress. With industry leaders like Silent Night offering a huge range of mattress and bed solutions, to newcomers like Eve, you can find the perfect mattress to provide you with the ultimate comfy night's sleep. 
Bedding Choices
Just like the mattress, the bed linen you choose to use on your bed can have a large impact on how you sleep. Bedding is something we choose to fit the décor style of the bedroom, but how often do you take the actual materials and thread count into consideration over the design itself? The answer is probably not that often. When you're choosing your bed linen, you need to think about how the material will feel against the skin, how it will wrap around you and make you feel cosy and warm. With the right linen, you can create the perfect sleeping environment as well as making the bed look great at the same time. 
Soothing Scents
It's no secret that certain scents can send you into a whole new world of relaxation, so introducing some soothing scents to the bedroom is ideal when it comes to a good night's sleep. There are lots of ways in which you can add scents to your bedroom, from candles and diffusers to room sprays, whichever suits your living style best. Some of the most popular scents for a soothing, calming atmosphere include Lavender, Chamomile, Vanilla and Cedar, which you often find included in a lot of popular candles and diffusers today.