If the time has come to replace your driveway gates, there's a lot to consider, as you want the design to be in keeping with the character of the property. The main aspect to think about is whether to have single or double opening electric gates, and with that in mind, here are a few pros and cons of both designs.
SINGLE DRIVEWAY GATES
The Pros
The benefits of a single-piece gate include the following:
If you are using an automatic gate opener, you will only need one, which helps to keep costs down.
You need half the fixtures and fittings that you would require for a double set (hinges, drops rods and guide rails) which also keeps the cost reasonable.
The Cons
The minuses of a single-piece gate include:
You will need to double the swing distance behind the gate, which might be prohibitive, depending on the size of your driveway. This could impede all kinds of activities like gardening or kicking a ball around with the kids.
More expensive to transport, as single-piece gates are twice as long as double units, and that could require specialised transport, which is costly.
Heavy Duty Post – As the entire gate is supported by a single post, it must be a lot sturdier than for a double-gate installation. That's a lot of weight on a single anchor point, which might limit your choice of metal to aluminium, rather than steel.
NOTE: When planning an electric driveway gate installation, you should make absolutely sure that you have everything you need. It is important to create a checklist so you won't forget anything.
DOUBLE DRIVEWAY GATES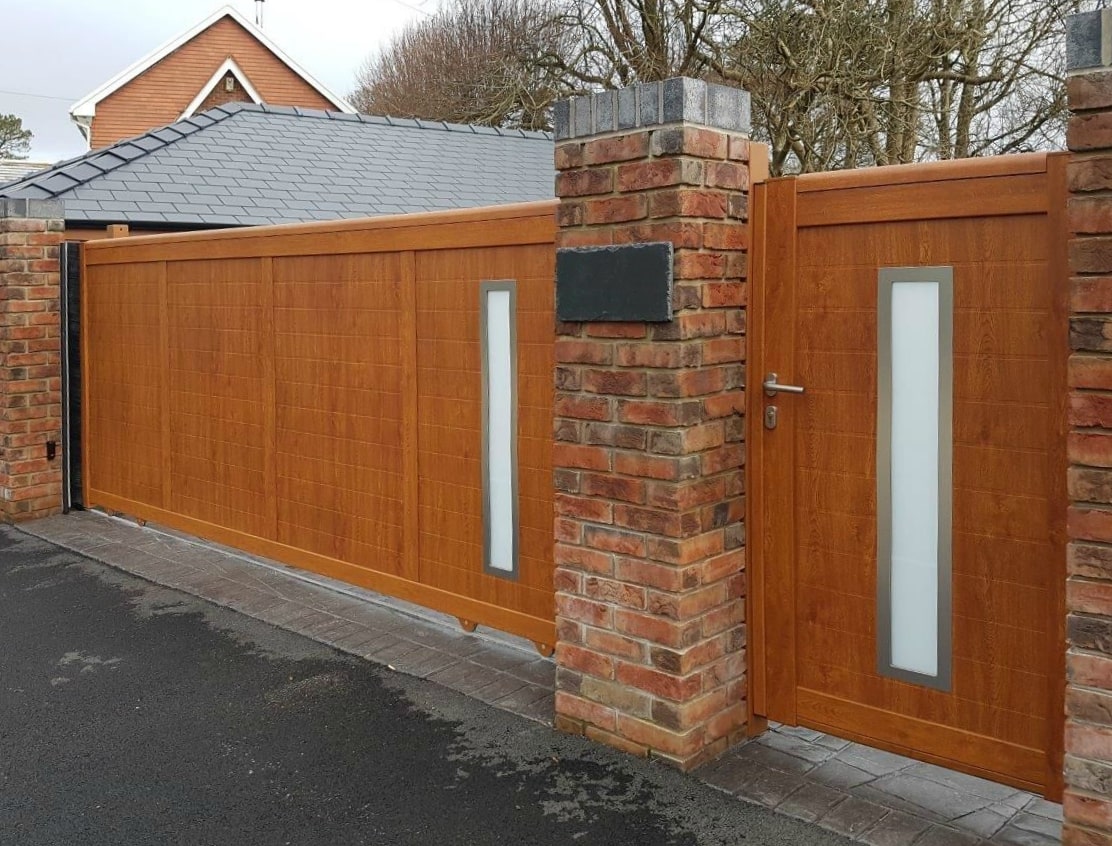 Image Source: My Decorative
The Pros
The advantages of double gates are many and include:
You need half the space behind the gates and that opens up your driveway.
Less costs for support posts – 4×4 is fine for double gates.
Much more design scope with double gates and you can have a pattern that comes together to create another one.
Much easier to ship, as the gates are half the width of a single unit.
The Cons
More hardware is required for double units.
You will need two automatic gate openers.
If you are about to change your driveway gates, a simple Google search will help you locate a driveway gates specialist, a company that designs and fabricates the units to specific dimensions, and with a professional installation, your new gates will be a major feature of the property. Once on their website, you can view many fine examples, with combinations of seasoned oak, aluminium, stainless steel and hardwood. The supplier would be happy to pay you a visit and then you can both take a look at the many options and once a design has been finalised, he or she can give you an all-inclusive quote for the project.
Price should never be the major focus, rather you want to hire a company that has extensive experience in designing, building and installing premier electric gates. There are several well-known providers near you, and some can even service all parts of the country. You can expect to see an increase in your property's value, as residential gates are considered a permanent feature.