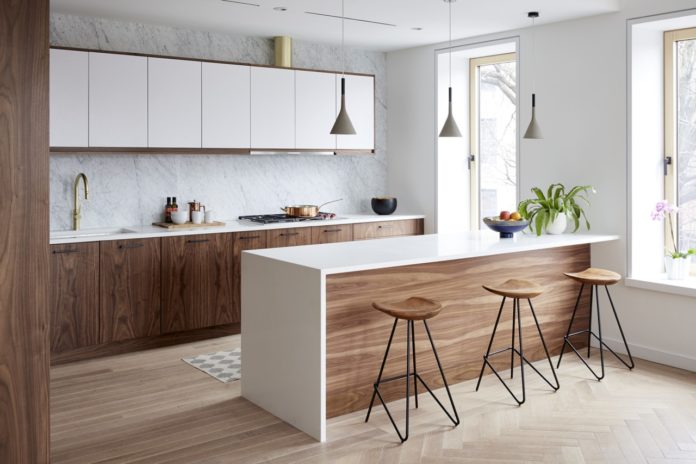 The kitchen is one of the most important rooms in our homes. It is of course where we spend time preparing food and drinks, but it's also fast overtaking the living room in terms of where we choose to relax, socialise and entertain guests. With such a variety of uses it's essential to create a layout that's both practical and stylish. A functional design should ensure clutter-free worktops and plenty of open space which will naturally contribute to a beautiful aesthetic. To help you create the perfect interior, we've put together a guide of things you will need to consider when planning your kitchen layout.
Think About Your Existing Design
A great way to begin designing your layout is by learning from your current kitchen. Start noting down anything that bothers you when you come to use your space, whether that's cupboards you can't reach, dishwashers or washing machines blocking walkways or even small details like where your electrical sockets are located. You can use this as a starting point to make sure you don't encounter the same problems in your new design.
The functionality of your space is unique to your lifestyle, you might enjoy cooking with your family or perhaps you intend to use your kitchen for entertaining friends. Give careful thought to how you plan to use your space and make sure you try and learn from your mistakes. If you're having trouble finding a solution to some of your existing issues it will be helpful to speak to a kitchen design expert. Your local retailer should be able to offer advice.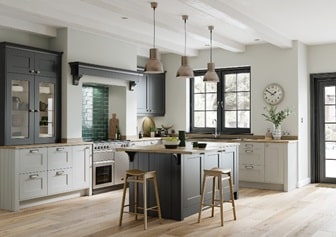 The Work Triangle
As you go through your kitchen journey, you'll likely find many designers mentioning the sacred work triangle. Essentially this is the arrangement of your sink, hob and refrigerator, and generally speaking, for optimum convenience they should be equally spaced apart within a few steps of each other so you can move around your space efficiently. It's recommended that this triangle isn't interrupted by other appliances so that, should any interlopers wish to participate in other kitchen activities, they won't impede on your delectable preparations.
However, it's fair to say that the zealously termed golden triangle isn't the be-all and end-all of kitchen design. Depending on your lifestyle you might prefer a different arrangement and furthermore, if you're kitchen promotes a gorgeously stylish one-wall design then this layout will have to be flattened and rearranged anyway. The work triangle provides guidelines for maximising your space, but it isn't the only option when it comes to creating a great kitchen layout.
Create Zones
A popular alternative to focusing on the work triangle is to establish several zones. These zones should focus on specific activities such as loading and unloading the dishwasher (position the sink, dishwasher and crockery drawers in close proximity), making breakfast or hot drinks (have a kettle, bowls, foodstuffs and refrigerator nearby), or food preparation (easy access to chopping boards, knives, waste disposal). Establishing these defined areas should make it quick and easy to carry out tasks. Once you have decided which zones are most important to you, you can figure out how to arrange them within the space. This approach is great if you are likely to share your kitchen with others as several activities can be carried out in different areas of your space.
Achieving a Flow
When it comes to creating a practical kitchen that's a joy to use, the flow of your space is really the most important consideration. A poor flow is what slows down your cooking and results in those little sighs as we patiently wait to be able to reach what we need. Aside from using the work triangle or the zoning technique to structure your layout, you must also ensure you leave enough space for people to move around you should they need to, 915mm is the widely advised walkway gap. It is worth aiming to position refrigerators or snack cupboards on the periphery of your kitchen so that peckish family members don't get in your way. Likewise, make sure walkways to other rooms or outdoor spaces aren't obstructed.
These days kitchens aren't just for cooking, if you plan on using your space for entertaining or you have a more open-plan design, you will need to consider setting out a formal dining area or casual gathering spot. Kitchen islands or peninsulas offer a wonderful focal point that can help delineate social and practical zones. Placing seating at your island is a great way to create a stylish informal dining area that will prevent guests from straying into the working area.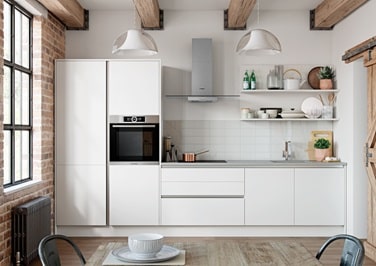 The Right Amount of Storage
Getting enough storage into your design is somehow always a challenge no matter how big your space and is a crucial consideration when planning your kitchen layout. It's tempting to opt for lots of overhead cabinetry because it seems like this would maximise the use of space, however, if you created your list of complaints at the beginning of the process, you might have noticed that overhead storage isn't all its cracked up to be. As well as causing a struggle for the vertically challenged among us, adding too much overhead cabinetry to your kitchen design can make it look cramped and oppressive. Consider compromising by introducing stylish shelving to your design. This gives you an opportunity to showcase some of your favourite decorations as well as ensuring your layout feels open and airy.
Creating a perfect kitchen layout can seem daunting at first, but if you break it down step by step by looking initially at what you want to change and then by focusing on smaller areas of your interior, you will find your design will soon begin to come together. Hopefully, our suggestions will help you to make a start on planning your space, don't be afraid to put pen to paper to come up with a few drafts. However, if you need a bit more guidance, we always recommend you contact your local independent kitchen specialist for their expert advice.