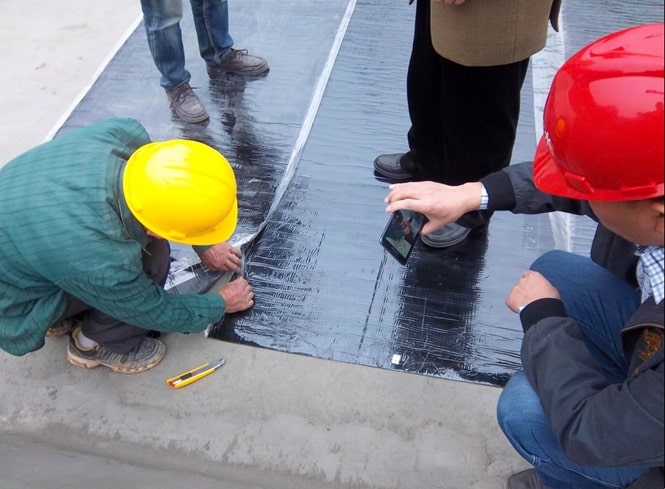 Under deck, waterproofing is vital for any deck wood system. Exposure to water reduces the long term service of these wood decks. Most people waterproof the top part of the deck but forget to waterproof under the deck as well.
 Under deck waterproofing membrane will protect your house from runoffs. A concrete joint sealant is used during under deck waterproofing. There are different ways in which you can waterproof your under deck, but the most common method is installing a waterproof membrane. 
Why so important to install waterproofing membranes?
The membrane installed ensures that water does not reach the areas under the deck. This is done for places that come into contact with water, for example, roof or an open area. The running water is collected on the membrane. The area beneath your deck is placed at an angle that will ensure water drains away. 
This can be done by the use of gutters, for example, to collect rainwater. If the underside of the deck is visible, you may try using a roofing material to conceal the membrane. This makes it look even more attractive. 
A concrete joint sealer is used for protecting rough surfaces, for example, bridge decks. This is used to enhance and increase the durability of these concrete surfaces. Using the bridge decks as an example, they have to be waterproofed so that they can prevent severe damages to the concrete. 
They should be protected with an elastic, crack bridging system so that movement is made easier. An under deck waterproofing system should be strong, flexible, and elastic. The flexibility ensures that it can easily form the shape of what it is laid over. 
How to get the perfect under deck waterproofing membrane?
UV stability 
This means that the membrane should be resistant to sunlight when exposed to the sun. If it is not able to resist this with time, then it will degrade over time. 
Elongation 
The membrane should be able to stretch fully. This is important, especially for buildings that will move. They should be able to stretch to cover the cracks that may arise in the future. They should be 200percent elongated. 
Tear resistance
A membrane can have good elongation but is not tear-resistant. A membrane that can stretch far can easily tear. Therefore one should look for an under deck waterproofing membrane that will not tear when stretched. How will you know whether it is tear-resistant? 
Take a small material of the membrane into your hands and try whether it is going to tear. These membranes can be used in various parts of the building, for example, the toilets, over the terrace, in gutters, over landscape concrete decks, among others.
The construction industry during this digital era has come up with these great services to protect client's homes. Under deck waterproofing membrane remains to be the best solution for homes. It makes your home long-lasting and also ensures that it checks out on you financially. 
With the concrete joint sealant, the process of waterproofing will be easier. This is because you do not have to keep repairing the under deck form from time to time.