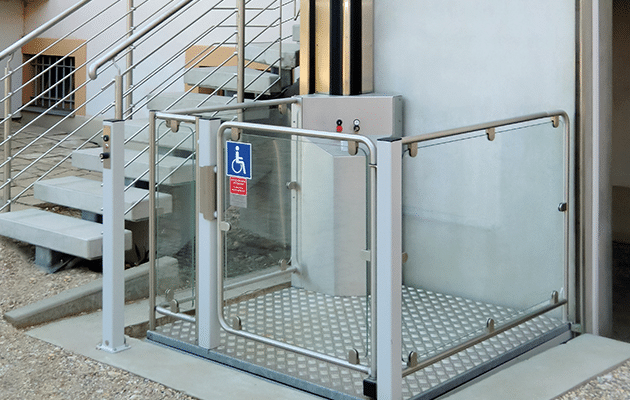 A platform lift is designed to be used indoors or out. This means you can install it in your own home too. If you are staying in a multi-story home, you may find it a chore to climb up and down the stairs so frequently. This is when you can consider installing a platform lift.
If there are many levels of stairs in your house and there are elderly staying with you, climbing the stairs will be a painstaking journey. It will be pretty inconvenient for them to travel around the house without a platform lift. Furthermore, with a platform lift, it will help to save you a lot of trouble too since you do not need to help in assisting them.
For those of you who have a family member who is a wheelchair user, it will be impossible for him/her to get to a second or higher level without the help of other people. Hence, installing a platform lift is the solution for you, to aid in the convenience of transport.
There are many different types of platform lift. There is a rise in the number of people who are more inclined to install a glass platform lift.
On top of its functionality, a glass platform lifthelps to improve the aesthetic outlook of your house. As compared to the traditional platform lift, a glass platform lift makes your house look more modern and still serves its primary function.
Furthermore, the material is also very durable which should be another consideration for you when deciding to install a platform lift in your house. You wouldn't want to spend a huge sum of money on installation, only to realise that it breaks down now and then.
Unlike other platform lift, a glass platform lift is more reliable and long-lasting as long as you carry out proper maintenance work. It can handle a load of 400kg and transport occupants to as high as 13 meters. However, this depends on whether it is a low or high-end lift and where it is being installed.
A glass platform lift also allows natural light to enter the lift. This means you can save some money on your electricity bill. The transparency also allows you to view the surrounding area.
If you are thinking of installing a platform lift in your office or at home, Tai Hee Engineering Trading Pte Ltd is here to help.
Tai Hee Engineering Trading Pte Ltd is a leading importer and service provider of the latest technology of accessibility equipment from Europe to Singapore and South East Asia. They provide installation services of residential stair lifts, commercial wheelchair and enclosed platform lift. These consultations and installation services are catered to private home-owners as well as commercial and public areas.