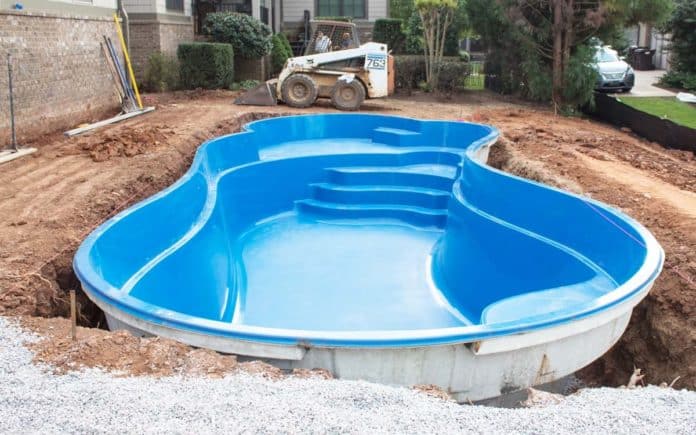 One of the luxuries of owning a home that sits on a nice amount of property is building a private swimming pool. When the pool is built it can be used whenever the members of the household determine, whether it's a solitary morning swim for exercise or a boisterous two a.m. pool party. They can invite who they want to join them in the water, and the coolness of a pool on a sweltering hot day is only a few footsteps from the patio door.

Our pool construction professionals at Xterior Creations Pools & Spas are happy to walk our customers through the steps of pool building, but there are things that need to be seen to first. They should make sure:

• The pool is in the right place, which means it shouldn't be in full sun, in a windy area, under trees that will drop debris into it or a place with underground pipes or cables.
• The soil can accommodate a pool
• The size, shape and depth of the pool have been determined.
• The landscaping around the pool has been decided on.
• The pool is within the owner's budget.

When all of that is out of the way, here are the steps to pool building:

Dig the Hole

After the hole is dug, our pool construction workers make sure that the ground is level or graded. They'll then spread gravel on the bottom of the pool and install rebar to strengthen the bottom and the sides. When this is done, an experienced plumber installs the plumbing and any gas lines to an outdoor kitchen or a fire pit. When they are done, an electrician who is also experienced in wiring swimming pools is brought in. Nowadays, electrical components such as pool lights, heating and pumps communicate with the internet, so the owner can control them even when they're not at home.

Add the Shell

After the plumbing and electricity are installed, the workers add the shell. The shell can be vinyl, fiberglass or concrete. Concrete, while more expensive than the other materials, is the strongest and most durable. Our pool builder company recommends poured concrete for larger pools.

There are two types of concrete use to build pools. It's either dry mix or wet mix, or shotcrete. If the owner chooses shotcrete, the concrete is mixed in a cement truck and poured. Gunite involves a dry mix process. It is different from regular concrete in that its particles are much finer, and it's delivered dry, mixed with water onsite then sprayed. This makes it a bit more versatile than regular concrete, for it's easier to use on irregularly shaped pools. It also costs less than regular concrete.

One caveat is that concrete shouldn't be used in a saltwater pool, for saltwater eats away at concrete. Vinyl or fiberglass are better materials.

After the shell is finished, the pool is simply filled with water. Bringing in a water truck cuts down on the time it takes to fill the pool. Then, the water is treated to clear it of algae and pathogens. After a day or two, it's ready to enjoy.