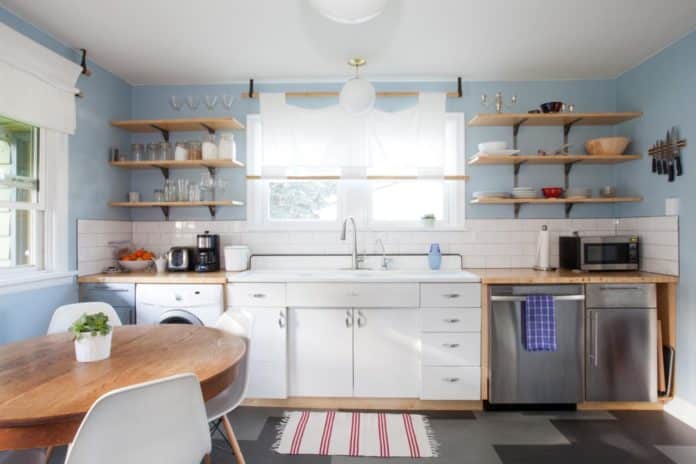 Most people think about giving a renovation to their kitchen when there is some repair required. Here, we want to correct you that even when your kitchen is not outdated, renovation is still needed to change the layout or design. Doing such a kind of renovation is enough to create most of the space. There are certain things when done can be helpful in doing a kitchen renovation.
Creating more storage space as well as cabinets to make a kitchen look bigger. 
Incorporate more appliances to create a smart kitchen look.
Forming beautiful wall space, excellent flooring, and free up counter. 
Leading professionals suggest keeping things simple. No matter if your kitchen doesn't have luxury items, still you can give a beautiful look to it. The homeowners who are thinking of resale their homes can think about the given below designs to give an overall aesthetic look. The right elements and cohesive plan can together work to give a beautiful kitchen design.
Think about refacing the kitchen
Yes, the reface kitchen cabinets are just awesome and give the needed bang to your kitchen. By doing refacing your cabinet, you are actually replacing the worn, and dated cabinet doors. For this, you can connect with the Handyman Connection of Pasadena.
Changing the existing countertops
Lots of options are available in the market from which you can choose the countertop as per your specifications. Basically, artful laminates are considered to be economical and very natural in appearance.
Lighten up your kitchen
Your kitchen also needs a good layer of light if you don't want to make it look like a cave. Try out under-cabinet lights, lighted cabinets, and dimmers as well. All are the best options to give a new look to the kitchen.
Focus on the small details
The kitchen remodel is not complete without emphasizing the small details if you are thinking about reselling your home. Hence, you should don't forget about fresh, lighting, and floor. Check with polished nickel or stainless steel pulls as well as knobs that usually freshen up your kitchen space. Go with a neutral wall color to give an aesthetic appeal.
By keeping all the details in mind, the kitchen renovation can easily be done with professional consultants. Even if you are looking for a bathroom remodel, you should contact the right guide. At every step of the kitchen design process such as countertops, tiles, cabinets, hardware, walls, and other things. With us, you can create good magic within the kitchen and personalized the kitchen in your own manner.