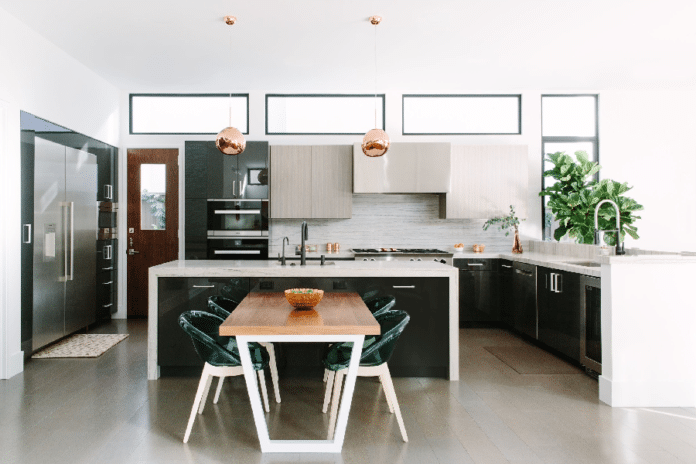 Your kitchen, like a well-balanced breakfast, needs the appropriate balance of illumination to get you on track to complete the day's responsibilities.
The kitchen by Foyr Neo is a true workhorse in the home, handling everything from list-making to homework, the actual food preparation, and cooking. And the natural light mix— island-highlighting pendants, recessed downlighting, under-cabinet LEDs—will ensure that it is suitable for all of those applications.
We will take you through the in and out of the great contemporary kitchen light fittings in this article –
So, why will you go with LED kitchen lighting?
Because it assists you in saving energy and money on your utility costs.
Allows for glare-free illumination.
It has a longer lifespan.
It is available in a range of shapes & sizes.
This article will help you with the following:
Kitchen lighting is classified into four types: general, task, decorative hanging, and cabinet lighting.
How to make the best use of any beautiful kitchen, also known as the best kitchen lighting creative ideas.
The amount of brightness required for each kitchen lighting style.
What are the benefits of using LED kitchen lighting?
So, what are the various ways to light up a kitchen?
The primary You can try three different lightning sources –
Task:While ambient lighting is useful for navigating the kitchen, it frequently casts shadows in places that demand more attention. Work surfaces & cabinetry are adequately lighted with task lighting so you can securely cook meals, read instructions, and readily identify products on a shelf. Strip lights & puck lights are basic kitchens task lighting alternatives.
Ambient:It will be your primary source of light, either in addition to or in place of natural light. You would like to cast as much as possible evenly from your ceiling. You can accomplish this by combining chandeliers, recessed lighting, pendant lights, and flush mounts.
Accent: Take these flourishes to be the icing on the cake of the well-designed kitchen: cabinet lights, toe kick lights, and many other lights that may highlight your favorite aspects. They may also cross over into ambiance & task lighting.
Best Kitchen Lighting – Pendant Lights 
A pendant light is frequently thought of as a decorative item that provides design, color, and a focal point to your kitchen. They have gained popularity over the years and are typically built-in groups of two or three across the peninsula or island. Pendant lights come in a variety of designs, sizes, and materials. The metallic fittings are a design element that gives personality to the kitchen. Pendant lights look awesome in groups, and the span of the counter determines the number.
Let us summarize
Is there not enough light in your kitchen? Do you have the sensation that your eyes are straining while you're making a meal? This is a frequent issue that many homes confront, particularly those with tiny kitchens & only one or two windows. Our guide has shown the various types of kitchen lighting ideas & how they are utilized to beautifully brighten a kitchen while also making it seem warm & inviting.