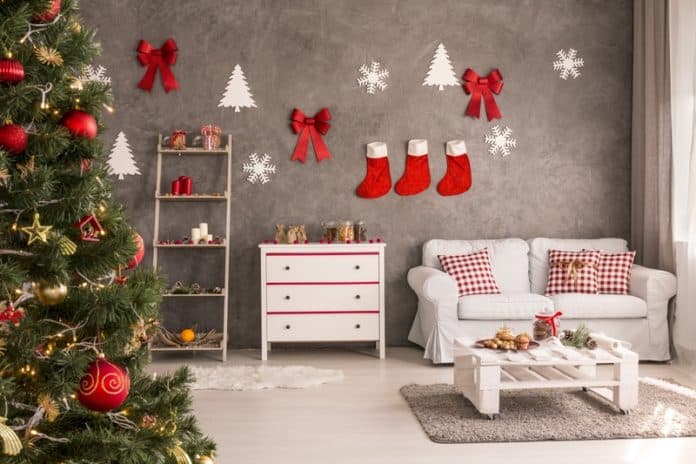 Christmas is the best time of the year where we all set up our mood and start decorating home for this eve. The stockings, pine trees, Christmas bells, and others are the common decorative items that can be found in any home. Admittedly, the Christmas decoration is usually narrow. But, if you don't know, Christmas décor comes with unlimited ideas, which are very creative.
The beautiful harvested garland with plaid ribbons gives a contemporary look to a room. This will really look stylish.
Making use of special wrapping
Think about using gift wrapping that complements with the color scheme of your room. You can go with similar techniques for ornaments.
The ladder is a good idea.
In spite of using just a cardboard box, it is an innovative idea to hang the Advent Calendar on a ladder. Toys, craft bags, and messages can also be added to the ladder.
The snowy outdoors can be created by coating the surface using colors such as ivories, whites, and creams.
Different objects of different heights can easily be decorated. What you can do is hang the oversized snowflakes, putting tall candlesticks, and put olive branches garland.
Christmas doesn't mean you only go with the traditional red and green colors. Try to mix metal things with retro elements like lamps.
Bring the holiday spirit to your home by adding some glitz. Bring some gilded baubles and put them in the right place to adorn the look.
Why don't you try purple?
Have you ever thought about putting beautiful purple flowers on the dining table? Well, this is a new red at the present time. You can put a silver cup to add extra glam.
Candles can sound old-fashioned, but they bring real charm to Christmas Eve. You can go with the candle lights instead of using real candles.
The fireplace is a great place to decorate. Despite light up a real fire, you can use lanterns and string lights to make this place cozy.
Christmas decoration doesn't need to be perfect. You just have to add beautiful items to heighten up your home coziness on Christmas. Enjoy this eve and make warm memories to cherish for your whole life.