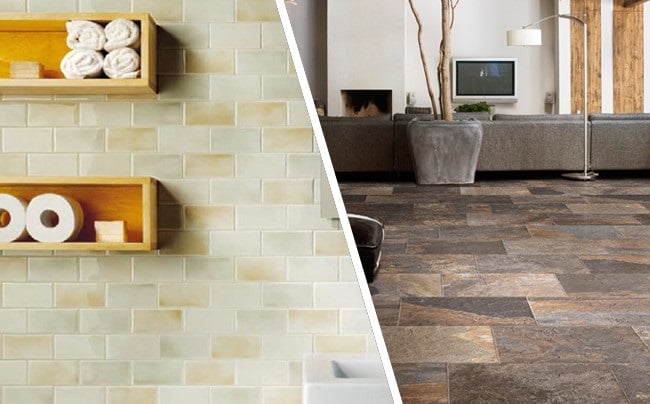 When hunting for your new tiles, the choice between porcelain and ceramic tiles can often be rather challenging. These two very popular options do feature a range of differences that will dictate their final application, price point and even their care and maintenance considerations, each of which are crucial factors that need to be considered when making your final selection. 
Porcelain vs. Ceramic Tiles
Both of these popular varieties of tiles are created with the use of a mould to shape the tiles, followed by a kiln baking process to ensure all moisture is removed from the product, resulting in a hard and durable surface. Porcelain tiles however, are baked at a much higher temperature as well as for a longer period of time in comparison to ceramic tiles. This process results in a final product that is significantly harder and also heavier in weight than ceramic tiles. Porcelain tiles will provide a much better flooring finish in comparison to ceramic finishes thanks to their increased strength which allows for a more durable and hardwearing surface. 
Ceramic tiles on the other hand, are usually softer and lighter in weight when compared to porcelain tiles, making them an excellent choice as a wall finish. Some specific collections of ceramic tiles can be used as a flooring solution however, so it is important to seek your local tile showroom's best advice based on your intended application, budget and preferences. 
What are the Pros and Cons of Porcelain Tiles?
Porcelain tiles provide an immensely dense and strong surface finish that is hard wearing and versatile enough to allow its use as both a wall and flooring option. Thanks to the extended kiln baking of a porcelain tile, the surface is resistant to scratching, staining and fluctuations in temperature and will never require sealing. Porcelain tiles can be used in areas where extreme sources of heat are of concern (such as a kitchen splashback behind a cooktop for example) allowing for a low maintenance surface finish that will normally only require a simple wipe down with a damp cloth to keep clean. Modern tile making techniques also allow for many unique options in porcelain tile collections such as timber look tiles, marble look tiles and even terrazzo and concrete look tiles, offering the perfect alternative to these higher maintenance options.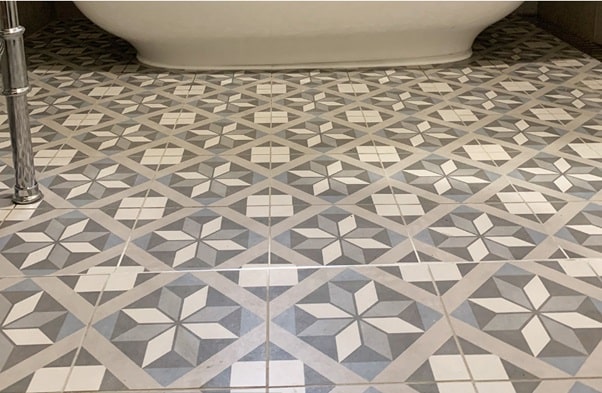 Caption: These delightful bathroom tiles are made of porcelain and specifically designed to replicate the smooth texture and style of traditional concrete tiles, providing and excellent alternative that will never require sealing.
Rectified porcelain tiles are another exciting option to consider for your project, especially in modern design schemes where a more seamless style is desired in your new tiled wall or floor finish. These tiles are machine cut to a precise 90° angle across all edges, allowing for a sharp and exceptionally narrow grout line that will be incredibly inconspicuous, especially when a matching coloured grout is used. 
Porcelain tiles will often fetch a slightly higher price tag to purchase and lay; their additional weight means that there is more labour involved in the tile laying process so it is important to inform your selected Tiler of your chosen tiles early on in your project so they can provide you with an accurate quotation for the project. You will also want to consider the treatment of any potential exposed edges in your tiling project, as these can be especially brittle and prone to chipping if not planned properly prior to laying. In installations where the edges of the tiles will be exposed (i.e. the edges of a shower niche for example) you have the option of using a metal strip that till cover and protect the exposed edges or alternatively, creating a mitred tile edge that will effectively minimise the risk of chips from occurring. A mitred tile edge joins together two tiles that have had their edges cut to a sharp 45° angle, creating a clean and crisp line that does not require concealing with a metal strip. This type of edge offers a modern look in your design and allows for an uninterrupted tile finish.
What are the Pros and Cons of Ceramic Tiles?
As mentioned above, ceramic tiles are baked at a lower temperature than that of porcelain tiles and also only require minimal time in the kiln. This process results in a softer and lighter final product that allows for a range of exciting and tactile designs to be created. As ceramic tiles are usually only used as a wall finish, more elaborate designs can be created that include intricate painted patterns, 3D effects using raised surfaces, unique textures and more. The softness of a ceramic tile also means that it is significantly simpler to drill through, allowing for easy installation of wall mounted fittings such as bathroom towel rails and hooks.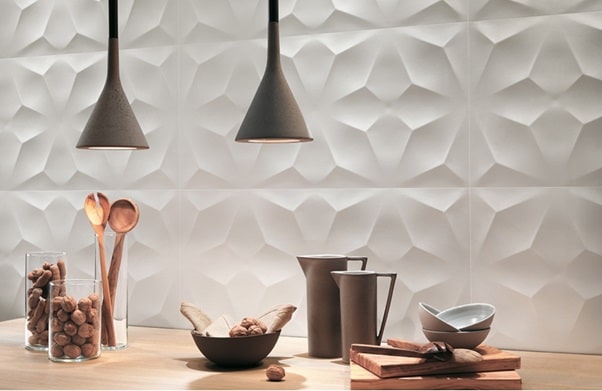 Caption: Ceramic tiles can be used to create exciting three dimensional patterns that can be perfectly highlighted with the use of lighting fixtures for a dramatic touch.
Certain collections of ceramic tiles can be used as a floor finish however these options are normally unglazed meaning that the surface is porous and therefore more susceptible to absorbing liquids that can potentially lead to staining or corrosion over time. It is always recommended that an unglazed ceramic tile be sealed in order to maintain the product's quality throughout its lifespan. Glazed ceramic tiles however do not require sealing as the glaze itself acts as a protective barrier over the tile.
There are also many collections of handmade ceramic tiles available; although ceramic tiles are often less pricey than porcelain products, handmade varieties will of course fetch a higher price tag as a result of the extensive labour and artistry that is involved in their creation. These handmade tile collections often feature ornate hand painted patterns as well as a wonderfully organic surface, creating a warm and earthy touch in any design project.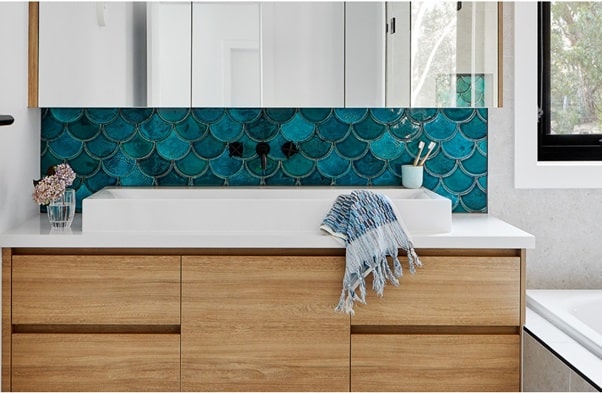 Caption: Handmade ceramic tiles will show colour and textural variations from tile to tile, presenting an incredibly unique look in your project that can only be achieved with a handmade product.
There are many differences between porcelain and ceramic tiles that will dictate their application in your project (i.e. floor or wall use) as well as the care involved throughout the tile's lifetime. When making your tile selections for your next interior design project, it is important to carefully consider these differences in order to make the very best decision for your needs, budget and style preferences.