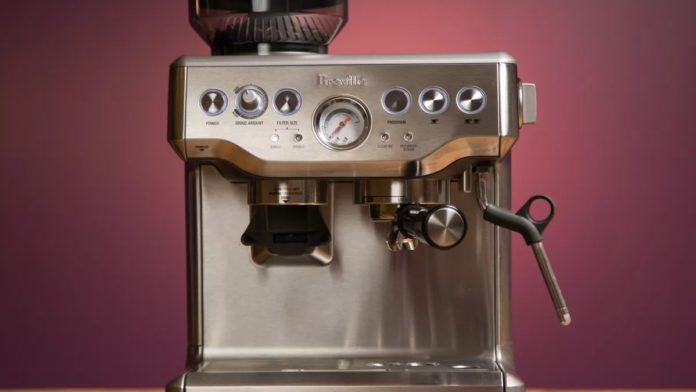 When it comes to coffee machines, you can never miss the name Breville. They are offering the highest quality espresso coffee machines in the market. Every product of them is appealing.
I, myself, am a great coffee lover. It's dying for me to consider spending a day without a cup of coffee, at any rate. And I literally tested several many espressos on various machines. And among them, I practically liked almost all the Breville coffee machine.
There are so many models from Breville out there I like, which is quite unthinkable for me and exhausting for you to read-only in a single article. So, here you are going to read two Breville Espresso Machines I loved the most and also best on the market. You may also explore Breville espresso machine reviews to find the latest model that suits your preference.
Breville BES840XL Espresso Machine
What do you think a great cup of coffee depends on? The answer may be fresh beans, quality grinder, and a correct portion of mixing. With this Machine, all you need to do is find fresh beans and leave the rest to it. Not only a great grind, but it also offers precise heating elements and a steam wand.
Key Features
Comes with 61 ounces water tank capacity, its Pre-infusion function gently expands grinds and serves you a perfect cup of coffee.
To have more control over the machine, there is a control panel to adjust the volume you need.
Its 1600 watts thermocoil heating system controls the temperature precisely and accurately, which influences the taste.
It gives you a perfect cup of latte art by providing high-pressure steam to the milk.
To confirm Italian Espressos taste, each serving contains 19-22g of fresh coffee.
Breville BES840XL Infuser serves perfect espresso flavour in every cup of coffee. Before extraction, it gently pre-infused coffee with low and steady water pressure. Then, expand the grinds preceding higher the pressure. Thus, it provides a balanced taste.
Last but not the least, it comes with a cleaning tool with it inside the box as cleaning a coffee machine is really hassle. However, everything is fine as you are getting a perfect coffee maker, after all.
Breville BES920XL Espresso Machine
Do you work from home? If yes, and you are someone who loves a latte or cappuccino, then it may be hard for you to choose a home espresso machine versus buying lattes four or five days a week. Then, this appliance will pay for itself – even if the price tag is high but, does anything matter for you when it comes to espresso?
Key Features
For continued espresso extraction and steaming, it comes with dual stainless steel boilers and dual Italian pumps.
To ensure you have a mouthful of cream and a better-tasting latte, it creates high-pressure steam to make perfect foam.
The machine comes with an over-pressure valve to let you manually control the extraction pressure.
It can heat the water fast and efficiently with the thermal coil, and the electronic PID controller keeps the temperature consistent.
A water hardness test strips come with this to ensure that you pour normal mineral water for best espresso.
The Breville Dual Boiler BES920XL espresso machine comes with two stainless machine boilers to cut down your time between the espresso and frothed milk. To give you an Italian taste of coffee flavour, it uses 19-21g of fresh beans. Digital temperature control (PID) technology accurately controls the temperature to offer you a perfectly balanced coffee extraction.
Without those, it has tons of features to bring out a perfect cup of coffee for you.
Final Verdict
Breville Espresso Machines are quite costly than other espresso machines. At the same time, they are offering more features than others. Anyway, features don't make a difference if the served coffee is not what we want. And Breville perfectly took care of it.
Those machines mentioned above are the best in the market. They are expensive but deserve the price. They are quite user friendly and setup is also easy. You can have a barista level taste at your home.
That's all for today. There are so many espresso machines in Beville I want to talk about, but that's for another time. Goodbye for today.