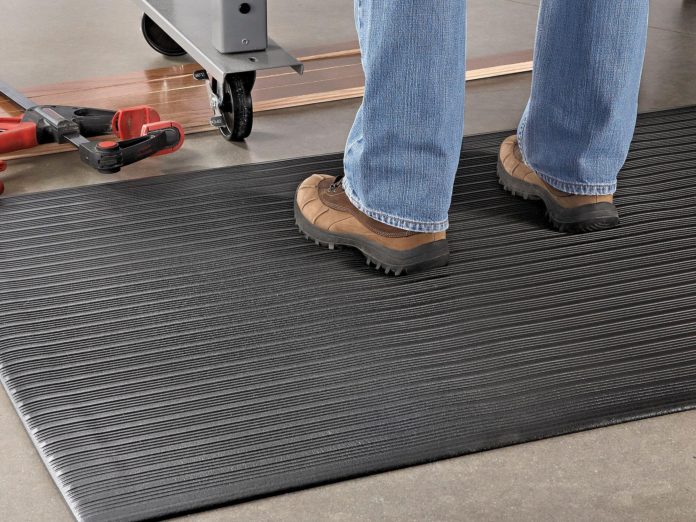 We all experience fatigue when we have to stand for long periods of time on a hard surface. This can be stressful and painful for a person. This is often experienced by people in the kitchen and the industry. Standing for a long time causes discomfort and tiredness. It has been scientifically shown that an anti-fatigue mat helps in eliminating the pressure, relieving stress, and providing support. The cushioning effect of an anti-fatigue mat reduces foot fatigue. These mats further help in avoiding slips and falls, resist grease & chemicals, and additional grip to the floor and shoes.
Different types of anti-fatigue mats
Depending on their usage, anti-fatigue mats can be further classified as anti-fatigue drainage mats and anti-fatigue kitchen mats. The anti fatigue drainage mats are used in industry where debris is expected to fall on the ground, industrial kitchens, under ice machines, and dish areas. These mats are sturdy and durable providing a comfortable walk area around the sink or a fountain. These drainage mats resist debris, water, chemicals, and grease. The beveled edges ensure no one slips or trips.
The anti-fatigue kitchen mats are specially made for kitchens but can be used elsewhere. They provide the same support and sturdiness as of an anti-fatigue drainage mat. You won't have to worry about sore feet and legs while washing dishes. The surface is made up of vinyl making it durable and long-lasting. These mats are available in different patterns to provide an additional grip to the shoes.
Why boat and boarding mats are useful?
Worried about people boarding your boat with dirty shoes? Concerned about slips and trips? Why not use boarding mats. These mats provide support, vinyl composite backing ensures that the mat stays in place, UV and mold resistant, and can be used on boats, swimming pools, or lobbies. They are well suited for both indoor and outdoor use. Easily handles the rough use and waste of high traffic and bad weather. Further, these mats will add to the beauty of your boat and make it aesthetically attractive.