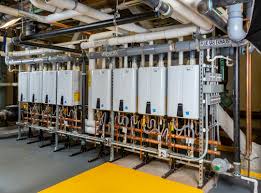 Water heaters are essential to keeping a home running on a day to day basis. They provide us with hot water for relaxing showers, cleaning our dishes, and cleaning our laundry! However, there are a couple of issues that are holding back traditional, tank-based water heaters. Tank based water heaters have a set capacity, most water heaters out on the market are built to hold between 50 and 80 gallons of hot water. This can cause some issues if you have periods of time in which you are using a lot of water, lets say around 6-7 P.M. when people are showering and there is a good chance laundry or the dishwasher is running. This can put a strain on your system and leave you with cold water for much of that time! On top of this, tank-based water heaters are woefully energy intensive, it requires energy to keep your hot water heated in that big tank! Thankfully there is a new solution taking the industry by storm, tankless water heaters!
What is a Tankless Water Heater?
Just as the name suggests, these water heaters operate without a tank, and instead produce water exactly the moment that you need it. They are also known as point of use systems because these water heaters are usually installed close to the applications and fixtures that they power. Tankless water heaters begin operating the second that you need hot water, say when you turn on the hot water in the shower. They produce water at a rate of 3-5 gallons per minute, so they are perfect for all appliances! These water heaters only run into problems when too many appliances require hot water at the same time, for these situations a second tankless solution can be brought in to help provide water! Tankless water heaters are amazing when it comes to energy efficiency, saving you on costs when compared to their tank-based counterparts!
This post was written by Joey Denick. Joey is the Owner and Operator of Clog Kings. At Clog Kings, LLC, we pride ourselves on our dedication and efficiency. We know you don't have time to waste. That's why we work fast to get your home or commercial building back up and running in no time. If you are looking for a tankless water heater in St petersburg then look no further because we got you covered!